Hydration Station
Clean water
- wherever and whenever you want.
The Hydration Station™ refilling base polishes water and dispenses it into a bottle, glass, or other container.
More than just a dispenser, the Hydration Station™ processes tap water into great tasting pure water using state-of-the-art filtration technologies.
Purchasing bottled water for your school or company?
Consider the Hydration Station and think about all the ways you can save:
Money / Water / Maintenance / Time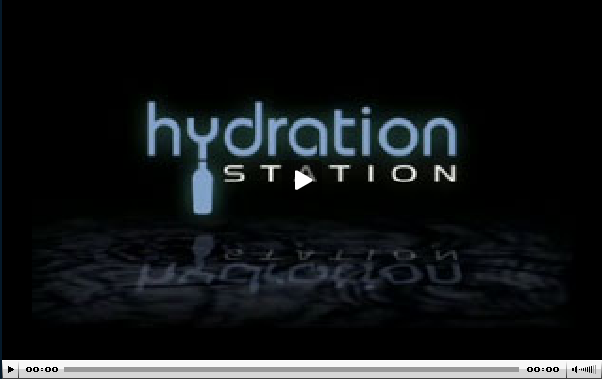 INNOVATION BY DESIGN
Hygenic Design
The Hydration Station offers users a touch-free hygienic alterative to bottled water and other less healthy soft drinks. Not only is it a better answer for today's health-conscious life styles, but it is environmentally friendly. The Hydration Station is sensor operated, so there is no need to touch it at all during use. The Hydration Station nozzle, drain and other key components are antimicrobially treated using the natural protection of silver. Impregnating with silver helps protect against the growth of mold and mildew on the treated components.
Great Tasting Water
Hydration Station delivers water on par with that from bottled water. Before water reaches the hydration station nozzle, it runs through a NSF-certified filter to remove sediment, chlorine taste and odor. This filtration system offers a superior, extended chlorine-taste and odor-removal capability with low pressure drop, for consistent taste and performance over the 2,000-gallon life of the cartridge.
User Friendly
The Hydration Station is very simple to use. Simply place a bottle or glass under the nozzle. The sensor-operated Hydration Station does the rest, automatically activating a smooth, pure stream of polished water, which is dispensed at roughly twice the rate of a standard drinking fountain, making short work of most containers. When the container is full, move it down and away and Hydration Station turns itself off for a drip free, spill free experience.
Ease of Maintenance
The Hydration Station is as easy to maintain as it is to use. The panel uses a hidden magnetic lock that opens only when the magnetic "key" is applied at the proper location. The entire upper panel swings open on concealed hinges, providing easy access to critical maintenance components. When the panel is opened, power to the unit is immediately and automatically shut off, and the drain grate can be removed for quick cleanouts. In addition, an indicator light signals the condition of the filter cartridge, which can be quickly removed with a quarter turn without turning off the water supply.
Free Replacement Water Filter Cartridge
As part of our introductory offer, the first 200 orders placed will receive a coupon redeemable for a free replacement water filter cartridge! We expect this limited-time offer to sell-out quickly. Request a quote today and stay hydrated!
---

Hydration Station spec sheet