IC4 Undersink Chiller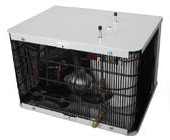 $12.00* per week
The IC4 water coolers are domestic sized remote coolers specifically designed to cope with the demands of applications such as the home or small office. They are usually installed under the sink, but are equally suitable in any out of the way place with adequate ventilation and can be fitted to many different tapware options to suit each application.
Remote mains pressure water cooler
Static condensing refrigeration system
Stainless steel waterways
Stainless steel 1.9 litre cooling reservoir
Can be adapted to a variety of tapware to suit your application
Approximately 4 litres per hour cooling performance
Durable powder coated cabinet
Dimensions: 410mm (W) x 300mm (D) x 300mm (H)
* All prices exclude gst.